Onken's is a small company with big ideas – and we couldn't do it without our family. Don Onken built Onken's from the ground up, focusing on fostering a family feel both inside and outside the business. Since 1983 our team has grown to include Don's son JR and daughter-in-law Amy, plus a growing family tree of team members and our extended family in the form of our customers. Together we know how to grow stronger – so get to know us!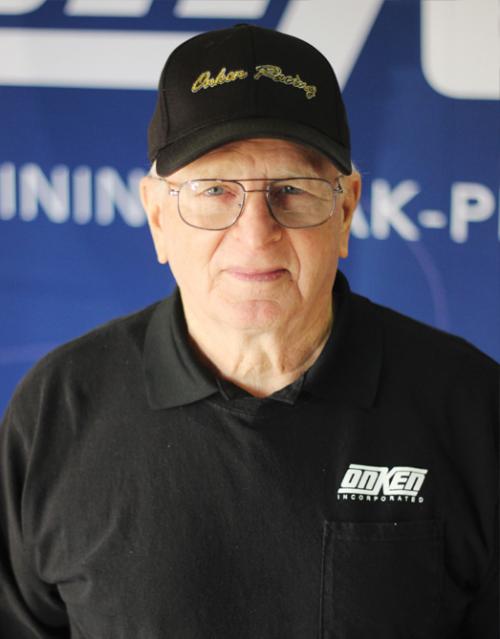 Don Onken
Founder
One word to describe working at Onken's: Quality
Before receiving patents for his bulk collection system and founding Onken's Inc, Don served as Fleet Manager for a large rendering company. Don continues to innovate both for Onken's Inc. and at his hobby, promoting ethanol use in the marine industry using his offshore powerboat.
Favorite customer satisfaction story: Most of the original containers we built in 1983 are still in service. We're proud that we still build to those same quality standards today.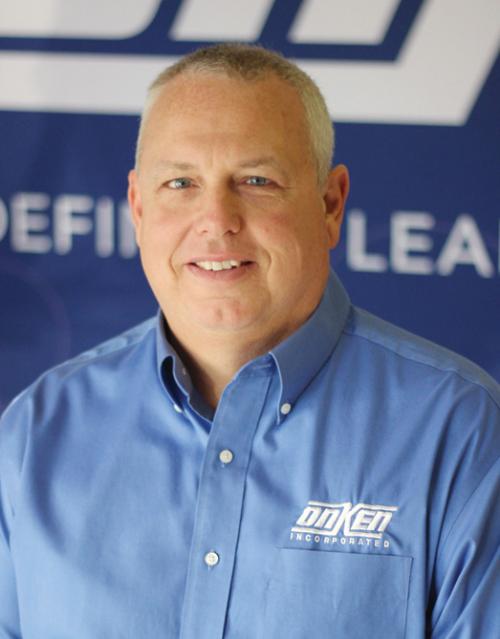 JR Onken
V.P. of Operations and Product Development
One word to describe working at Onken's: Satisfying
Twenty-five years with the company, plus a lifetime of learning at the knee of Onken's founder – and his father – Don Onken have taught JR that no two days are the same, nor are any two customers. Today he applies his experience and skills to coordinate between sales and shop production and to develop and refine new products.
Favorite customer satisfaction story: We had a national account with an EPA compliance issue. After meeting with their engineering staff, we were able to design and implement a device that not only took care of that problem but also addressed issues they didn't even realize that they had. The device, which retrofitted to their existing product, saved them from having to replace the original product, which saved them time and money. Solving problems is one of our strong suits at Onkens!
Something about you that would surprise people: I enjoy running.
JR lives outside of Easton and has two children, Justin and Jessica.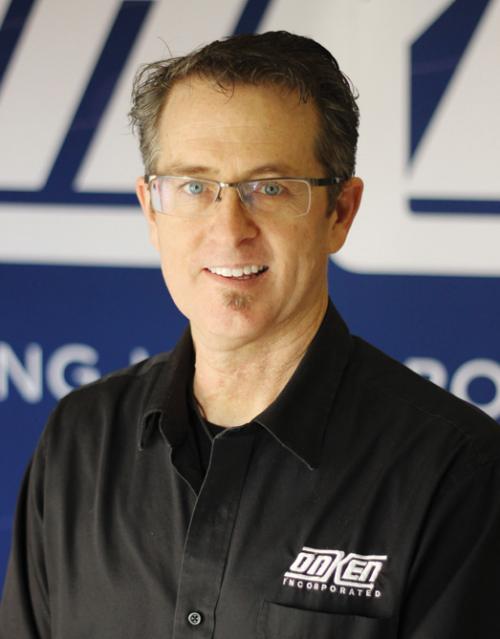 David Hull
Vice President of Sales
One word to describe working at Onken's: Fulfilling
After 14 years with the company, customers know they can count on David to get what they need, no matter what it takes. He has a passion for following orders from start to finish.
Favorite customer satisfaction story: We had an order that went out, and 20 of the bins had a small issue that wouldn't let the lids sit properly on them. It could have easily been remedied by the customer, but instead, I hopped on a plane the next morning with a die grinder and was there that afternoon and fixed the problem myself. That evening over dinner, the customer told me: "I wouldn't have expected anything less from you David." It's nice to have that reputation as a company, but that's what you do when something goes wrong; you fix it.
Something about you that would surprise people: Even though I love to travel and will fly anywhere at the drop of a hat, I have to take Dramamine to fly or I get deathly sick.
Dave and his wife Annette live in Mason City and have 3 grown, married children and 3 grandchildren.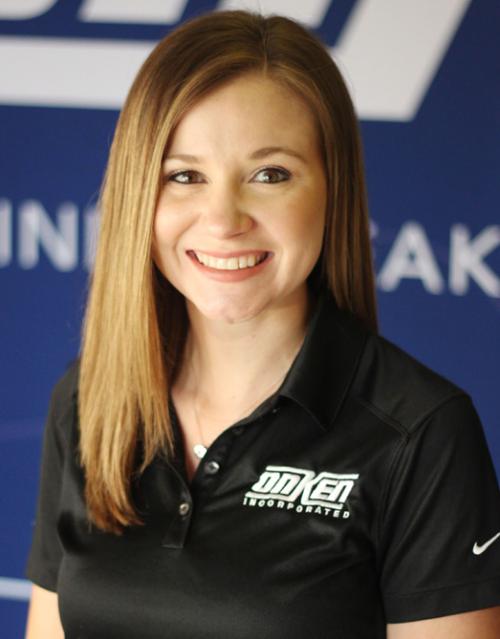 Amy Onken
Director of Business Strategy
One word to describe working at Onken's: Rewarding
Amy's career began in insurance after graduating from Illinois State University in 2006 with a degree in Finance and Insurance. Amy joined Onken's Inc. in 2016, applying her experience to streamline the insurance program and help manage office activities.
Favorite customer satisfaction story: I love our team's commitment to doing what is best for our customers and sincere concern for helping our customers solve problems they are facing. I think most people would be surprised at how much this focus drives what we do every day.
Amy and her husband, JD, live in Mason City and have two children: Emily and Emmett
Rob Umbach
Dynamic Solutions Specialist
One word to describe working at Onken's: Absolute
During Rob's 2 years at Onken's, he's proven his skills in many areas. So it's no wonder that today he wears many hats, handling sales, IT, administering the safety program and providing customer service assistance.
Favorite customer story: During my first year at Onkens, I made the mis-step of choosing a freight company based solely on their low price. I later found out through the many phone calls and delays that I could have saved the customer and myself "truckloads of trouble" by doing my research. The load finally made it with the addition of a few gray hairs atop of my head. The customer still jokes with me to this day reiterating his address and to not use "that" trucking company!
Something that would surprise people: I am a licensed cosmetologist. I cut the shop guys' hair but more importantly I cut the boss's hair!
Rob and his wife Kristi live in the country outside of Easton and have three kids: Ethen 10, Kelbi 6 and Loxli 2. He enjoys coaching baseball, coaching soccer and fishing. He also enjoys running and anything to do with the outdoors.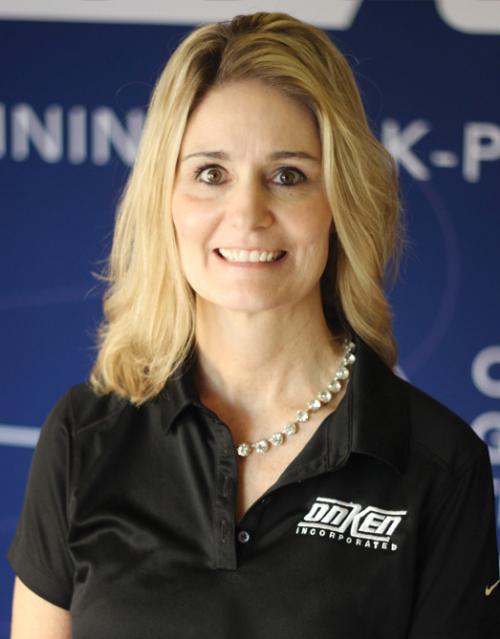 Alicia Wohler
Logistics Specialist
One word to describe working at Onken's: Priceless
After six years at the company, Alicia has built such close relationships that she and her customers finish each others' sentences. National accounts know they can count on her for anything from receiving and shipping to POs, and she also keeps accounts receivable running smoothly.
Favorite customer satisfaction story: My customer satisfaction story is more of an ongoing one. I work with our national account customers, and I really enjoy the relationships I've been able to build with them as I help solve the challenges they face in fulfilling POs and getting those items shipped to their various locations. I'm working with people from all over the country and have come to the point where we almost finish each other sentences! It's really nice to work with people you look forward to hearing from every day.
Something about Alicia that would surprise people: She is a World's Grand Champion Equestrian who has showed American Saddlebred horses since age 6.
Alicia, her husband Joe and their three kids, Emma, Tessa and Henry love the St. Louis Cardinals!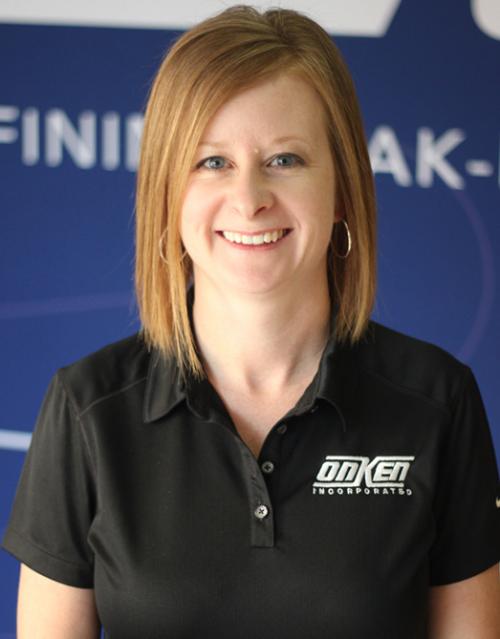 Erin Anderson
Product Designer
One word to describe working at Onken's: Ideal
Erin has been with the company for 15 years, making ideas come to life and also multitasking, as the Onken's family often does. In her case, that means helping with accounts payable and payroll.
Favorite customer satisfaction story: Our customers deal with challenges in their businesses and often come to us for answers. I get to convert our team's solution to usable drawings that the shop can use to build it. I love being an integral part of that process: helping customers meet their needs.
Something about you that would surprise people: I enjoy fly fishing.
Erin and her husband, Nate, live in Mason City and have two daughters.